As a planning engineer, we know how challenging it can be to stay on top of our projects. We have to ensure that everything is in order, from resource allocation to meeting deadlines. One tool that can help us stay organized and on track is the 6-week look ahead schedule. In this article, we'll dive into what it is and how to create one using an Excel template.
What is a 6-Week Look Ahead Schedule?

A 6-week look ahead schedule is a planning tool used by project managers or planning engineers to ensure that their project is on track. It involves planning the next six weeks of the project in detail and updating the schedule weekly to ensure that the project is progressing as planned. The schedule includes details such as work to be done, resources required, and deadlines to be met.
How to Create a 6-Week Look Ahead Schedule
Creating a 6-week look ahead schedule is an easy task, but sometimes you don't know where to begin. To get started, we have created a FREE Excel template that can help simplify the process.
The template includes the necessary columns for a typical 6-week look ahead schedule, including the activity name, start and end date, and resources.
To use the template, simply add your project name and ID, then open the second sheet and fill the data up to your project and update it weekly to reflect any changes in the project's status.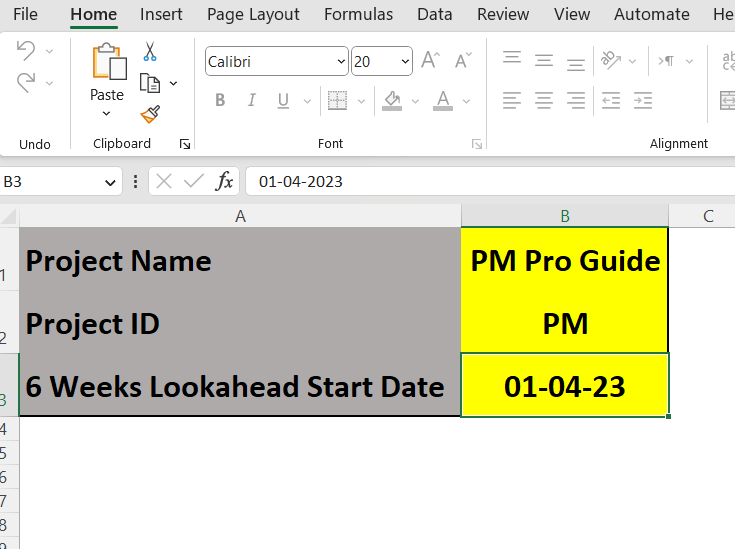 Why Use a 6-Week Look Ahead Schedule?
Using a 6-week look ahead schedule can help planning engineers stay organized and ensure that their projects are on track. By breaking down the project into smaller, more manageable tasks, it becomes easier to manage and less overwhelming. The schedule also helps to identify any potential issues or delays before they become major problems, allowing for proactive action.
In conclusion, the 6-week look ahead schedule is an essential tool for any planning engineer. By using the Excel template we provided, you can simplify the process and save time while keeping your project on track. Download our free template today and start planning your project like a pro!
Download the 6 Week Lookahead Excel Template
Make sure to enable macro from the security settings before using the file.